Equidox PDF Academy – Tagging headings in PDFs
One of the most useful items for navigating PDF documents (or any document) are headings.  Headings help the reader find the information they need in a document, quickly and easily.  Users of assistive technology can set their screen readers or connected Braille displays to search through headings, just as sighted people skim headings to find content. 
In order for people using assistive technology to be able to use headings within your PDF documents, headings must be indicated by actual "heading" formatting and a heading tag for PDFs.  Formatting text in bold, italics or with underlining or a different font will not indicate to assistive technology users that the element is a heading, as they cannot see these changes. 
Set up headings like an outline, with each level defined for the particular PDF document. 
There can be only one
There should only ever be ONE heading level 1 in any document. If you are using a content creation program (like MS Word or Google docs) to create your source document, and then converting that PDF, you might have a "title" available in your heading formatting.  Do not use this. Assistive technology doesn't recognize "title" as a heading and using "title" will make your document headings inaccessible.  Having multiple headings level 1 will cause your document to fail compliance testing.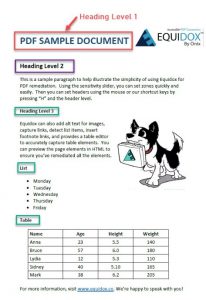 Headings are an outline
Heading structure should be hierarchical and look like an outline.  You should not skip any heading levels (there should not be headings level 4 without any headings level 3).  Headings are not going to be numbered consecutively like a list, but are nested according to the level of information being provided.  Hence, this document below will have one heading level 1, one heading level 2, and several headings level 3. 
Observe how headings used in a Table of Contents have multiple levels, and how they are set correctly in this next example: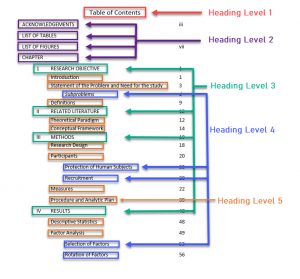 Heading 1 is the title
Headings level 2 are the next level, throughout the page. 
Headings level 3, 4 and 5 are nested under one another, as shown. 
Include Headings whenever possible
Headings are an important tool for navigating any document.  It's helpful to include them for anyone using content, but especially important that they are correctly tagged in PDFs for assistive technology users.  Set up headings in outline format, with each level nested and no levels skipped.  Adding these tags will go a long way to making your PDFs more usable for assistive technology users. They are also a major component in document accessibility compliance. 
Equidox does headings right
If you are using Equidox PDF Remediation software to remediate your PDF documents, setting headings could not be simpler.  Just select the zone you wish to tag as a heading and choose the heading level by pressing the number of your keyboard for the correct level.  So, to set heading level 1 in your document, you simply select the title and press the "1" key.  
To learn more about how easily you can remediate PDFs using Equidox, view our 1-minute heading video.