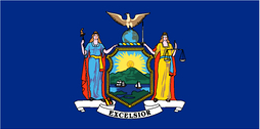 New York Digital Accessibility Requirements
State agencies are required to ensure that both internal and external documents are accessible to members of the public as well as state employees, based on the requirements of Section 508.
Public Accommodation Laws
It shall be an unlawful discriminatory practice for any person, being the owner, lessee, proprietor, manager, superintendent, agent or employee of any place of public accommodation, resort or amusement, because of disability, directly or indirectly, to refuse, withhold from or deny to such person any of the accommodations, advantages, facilities or privileges thereof, suggest their business or patronage is unwelcome due to their disability, or to in any way publish, advertise, or post any communication suggesting that the business or patronage of a disabled person will be withheld or denied.
You might also like…
Did you know that more than half of all lawsuits are filed in the state of New York? No matter where your business is located, if your products, services, or website reach New York, you could be impacted. Read more in our blog.
Need help with compliance?
Not sure if your PDFs are compliant with New York digital accessibility standards for your industry? Equidox can help! Contact us to get started.