ADA Title III digital accessibility lawsuits skyrocketed to 3550 cases in 2020, an increase of more than 20% over 2019.  Nearly half of those lawsuits were filed in New York. While people weren't visiting physical places of public accommodation due to COVID, consumers visited their websites. New York considers websites of places of public accommodation to also be protected by ADA Title III.
New York leads the country in ADA Title III lawsuits for a number of reasons. 70% of all digital accessibility lawsuits are filed by just 10 law offices, and most of those are located in New York. State human rights laws also allow plaintiffs to recover damages in New York by adding state- or city-level claims when they file an ADA Title III lawsuit. Plus, defendants don't have to be located in New York to be sued there. If someone from New York is accessing your website, you are subject to New York jurisdiction. 
New York leads the country in ADA Title III lawsuits for many reasons, but there's one sure way to avoid them all: make your website and all digital content accessible.
Who faces ADA Title III lawsuits?
New York accessibility lawsuits run the gamut from giant financial institutions to smaller consumer goods companies. Banking pillars Keycorp and American Express were both sued in the past two years, while the world's largest event technology platform, Eventbrite, was just sued in January 2021. Nissan North America faced ADA Title III litigation in December 2020, while smaller skateboard grip tape company, Grizzly Griptape, LLC, was sued that month as well. These companies all have one thing in common- they all failed to make their digital resources accessible to everyone.
How can you avoid ADA Title III AND New York accessibility lawsuits?
To avoid lawsuits, you must comply with ADA Title III. To comply, your website must be accessible. Achieve accessibility by addressing both coding and contextual accessibility issues. Catch inaccessible coding issues by using automated checkers.  Then physically inspect your website to make sure it aligns with WCAG principles for contextual accessibility. 
Checkers catch some technical issues
Checkers make sure that the website designer has in some way coded the elements of the website to be identifiable and operable by assistive technology. Automated checkers can help you Start identifying potential technical accessibility issues on your website. However, checkers can't tell you whether the coding is correct. For example, a checker can tell you whether an image includes an alt text description. But it cannot tell you whether the image description is correct or how the image fits the context of the surrounding content. The image isn't usable or accessible without accurate, contextually relevant alt text.
WCAG addresses all aspects of compliance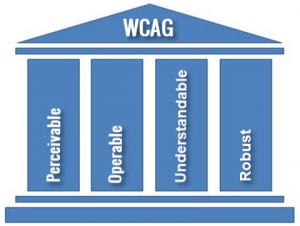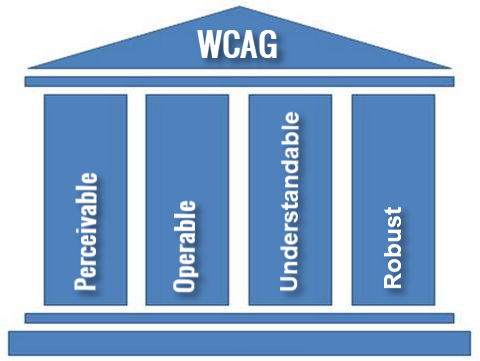 Use the holistic approach of WCAG guidelines to make sure everything on your website (web pages, videos, audio files, PDFs, and more) is accessible. The four pillars of WCAG require content to be perceivable, operable, understandable, and robust. Going beyond passing checkers to actually make your digital content accessible will help you fully comply with ADA Title III and New York human and civil rights laws. Remember, the law does not require that your content pass a checker; it requires that it be accessible to everyone.
 Everything on your website must be usable to everyone, regardless of how they access information. For example, all audio content must include subtitles, and visual content must be compatible with assistive technology to provide an audial or tactile version to users.
Website visitors must be able to navigate and use your website no matter how they access it. That includes being able to access and interact with all elements using any navigation device (such as a mouse, keyboard,  touchscreen, or joystick).
Using overly technical terms and jargon that only a select few can understand when it's not necessary alienates your audience, and visitors who are quickly skimming for answers won't grasp what they need. Use clear, comprehensible terms so visitors can actually use the information.
Website visitors must be able to access the website on whatever device they prefer and with any technology. The website should remain usable even when technology updates or new technology is created.
Don't forget archived material
Apply these WCAG principles to every digital resource you offer to your website visitors and your employees including PDFs. Don't forget hidden, archived documents like old meeting minutes or reports that might hide on your website. Even one New York resident becoming frustrated with their inability to access your organization's PDFs can lead to an ADA Title III lawsuit. 
Make PDF accessibility fast and easy, even if you've got tons of PDFs, by investing in a fast, uncomplicated software that your team can easily learn and use. Equidox offers PDF remediation software that uses smart detection tools, so you'll only spend a few seconds on each page of most documents. Equidox will teach your IT or content creation team to remediate their own PDFs with free software training.
Beyond compliance: Show visitors you value their business
Making your website and digital resources accessible using WCAG standards to comply with ADA Title III will help prevent lawsuits, but accessibility yields additional benefits too. Accessibility can broaden your audience and boost your reputation among audience members both with and without disabilities. When you make your website accessible to every visitor, it shows that you've considered their needs and value their business. Sharing an accessibility statement and encouraging visitors to contact you if they have accessibility concerns shows your commitment to inclusion.
Actionable ways to comply with ADA Title III
Don't leave compliance up to chance. Intentionally evaluate your website and all your digital assets to make sure everyone visiting your website can access information.
Ask your web designer if he or she included specifically accessible coding on your website

Check to make sure your videos include captioning and that it's accurate.

Use a free screen-reader app (such as NVDA) to review PDFs. Make sure the document sounds correct as the screen reader reads it aloud.

Don't forget about archived documents. Any inaccessible part of your website- even archived PDFs- means your whole website is inaccessible. 

Use easy, fast software when making the parts of your website accessible, such as Equidox PDF Remediation Software.
When in doubt, get help from an experienced accessibility professional. Equidox offers professional website testing and consulting services to show you where your website falls short of accessibility and exactly how you can fix it.
Accessibility is key to compliance and inclusion
Your chances of facing an ADA Title III lawsuit in New York has nothing to do with your industry or the size of your company and everything to do with the actual accessibility of your website. Let the Equidox accessibility experts help you prioritize the digital accessibility process and make your PDFs accessible.