Your company's digital accessibility plan is an important tool for inclusion and compliance with ADA and 508 policies. It is the roadmap that defines the specifics for your accessibility policy or statement. Your accessibility plan can be part of your equal opportunity or your non-discrimination policy. Or it can stand on its own if those policies already exist and you don't want to combine them. 
Step One: Choose a Standard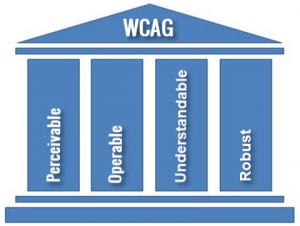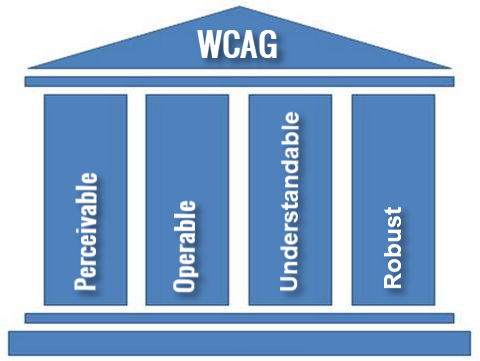 The first step is to choose a standard or standards by which you will measure the success of your policies. The most widely accepted accessibility standards are those produced by the World Wide Web Consortium (W3C) called the Web Content Accessibility Guidelines (WCAG).  If you've gotten to this point in your accessibility policy development, most likely you've heard of them. Section 508 of the Rehabilitation Act references WCAG version 2.0, many federal accessibility lawsuit settlements reference the more recent WCAG 2.1, and many US states and other countries reference WCAG and may include additional guidelines. You can find other standards that can be used as a framework in this blog post. Other standards or guidelines that may need to be referenced in addition to an overarching standard such as WCAG, include the Authoring Tool Accessibility Guidelines (ATAG) which apply to tools used to create content, including software such as Google Docs, MS Word, or comments, forum posts and uploaded content for interactive websites (meaning the tool itself should be accessible to assistive technology users as well as create accessible content), and User Agent Accessibility Guidelines (UAAG), that apply to plug-ins or organizational-specific internal browsers or mobile apps. 
Step 2: Define your Conformance Expectations
Once you've chosen a standard, you can begin to define how your organization will measure the conformance expectations and how to address any shortfalls. Decide what level of conformance you wish to reach for any guidelines you have defined as your measuring tool. It's best to choose the most recent and updated guidelines available unless there is a legal order for a different specification. You may wish to make use of an external consultant to measure your success or hire someone to handle it internally. 
Step 3: Define Scope
The next step is to define the scope of how these guidelines will be applied. To what departments should this apply? (Hint: All of them!) Dependent upon this decision will be the assignment or hiring of staff to follow through with the application of your policies. The responsibility to enforce policies and educate staff may fall to one main accessibility officer company-wide, a designated person in each department, or each individual employee. The accessibility policy should cover not just website(s) and mobile app(s) but also internal digital content such as human resources materials, training materials, and internal communication tools, as well as any software used by your organization. Digital information needs to be accessible not just to clients and partners but also to your employees. Additionally, you need to be aware of any 3rd party content visible or accessible from your mobile app(s) and website(s). Will the accessibility policy cover that digital content as well? If so, those 3rd parties will need to be informed and any lack of compliance addressed. 
Step 4: Setting Milestones
Achieving full digital accessibility is a process that includes developing a roadmap, setting priorities, creating budgets, and allocating work to staff. The very first step is to implement a policy that all new content and tools must be accessible to the chosen standard. Once that is implemented, you will need to generate achievable milestones to measure your progress remediating legacy content and the replacement of legacy tools and software. The amount of detail and the level of each milestone will depend upon budget, manpower, and available and developing expertise. It's a good idea to also include staff training as part of these milestones to ensure continued accessibility moving forward. Milestones should include a step-by-step plan for each department. Be sure to assign personnel within your company that will keep the staff and management accountable for continued compliance. 
Step 5: Maintenance and Review
Digital accessibility is not a "one and done" project. It must be maintained continually to keep up with changing content, technology, and staff. Regular employee training and audits of digital content are necessary. Schedule accessibility reviews and hold staff training regularly, especially following any technology updates. You should develop a process by which both internal and external feedback can be addressed. A prompt response to any complaints is an important factor in avoiding accessibility litigation, and the best way to maintain customer and employee satisfaction. 
An example of a section 508 accessibility roadmap can be found here. This can be used as a starting point and customized to your organization's unique needs and challenges. 
Want help getting started? Equidox can help you design your accessibility roadmap.