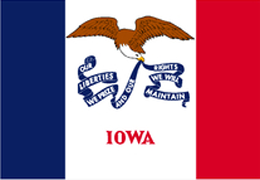 Iowa State Digital Accessibility Requirements
All State of Iowa agencies, boards or commissions, and contractors for the State developing and maintaining websites, must give employees and members of the public with disabilities access to website information that is comparable to the access available to others.
It is the website accessibility standard of Iowa that all agencies receiving Federal funding must comply with Section 508, and the State of Iowa must comply with WCAG 2.0 levels A and AA, including technologies procured through contractors. State website RFPs must include reference to and acknowledgment of this standard.
Public Accommodation Laws
It shall be an unfair or discriminatory practice for any public accommodation or any agent or employee thereof to refuse or deny to any person because of disability accommodations, advantages, facilities, services, or privileges thereof. It is also unlawful to directly or indirectly advertise or in any other manner indicate or publicize that the patronage of persons of any disability is unwelcome, objectionable, not acceptable, or not solicited.
Violation Penalties
Iowa allows for payment to the complainant of damages for an injury caused by the discriminatory or unfair practice. Damages shall include but are not limited to actual damages, court costs, and reasonable attorney fees.
Need help with compliance?
Not sure if your PDFs are compliant with Alabama digital accessibility standards for your industry? Equidox can help! Contact us to get started.