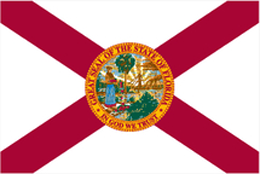 Florida State Digital Accessibility Requirements
All state government branches must comply with Section 508 when developing, competitively procuring, maintaining, or using electronic information or information technology.  Besides being legally compliant with Section 508, state websites must be actually usable to those with disabilities or face civil action as well.
Public Accommodation Laws
All persons shall be entitled to the full and equal enjoyment of the goods, services, facilities, privileges, advantages, and accommodations of any place of public accommodation, as defined in this chapter, without discrimination or segregation on the ground handicap.
Violation Penalties
The Attorney General may commence a civil action for damages, injunctive relief, civil penalties not to exceed $10,000 per violation, and such other relief as may be appropriate under the laws of this state if the Attorney General has reasonable cause to believe that any person or group has repeatedly engaged in a pattern of discrimination or has raised an issue of great public interest.
More on Accessibility
May 31, 2023
May 18, 2023
Need help with compliance?
Not sure if your PDFs are compliant with Florida digital accessibility standards for your industry? Equidox can help! Contact us to get started.