Companies spend a great deal of time and money making sure their website and marketing dollars stretch to reach as many members of their target audience as possible. This usually takes the shape of engaging content, eye-catching graphics, well-organized tabs, and easy-to-locate information. While an attractive website that is both informative and entertaining will certainly appeal to some clients, if it isn't formatted to comply with Web Content Accessibility Guidelines (WCAG) 2.0 AA  it could be excluding up to 20% of its target audience. That's a big loss for companies scrutinize every return on investment. Further, it could risk complaints, litigation, and punitive settlements. Companies that fail in their website compliance and exclude those with disabilities from access to their website could be violating ADA Section 508, particularly if the website is for a government entity or a contractor for the government.
Accessibility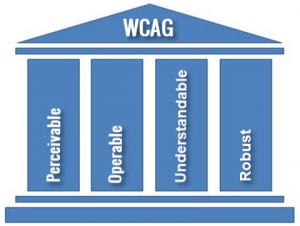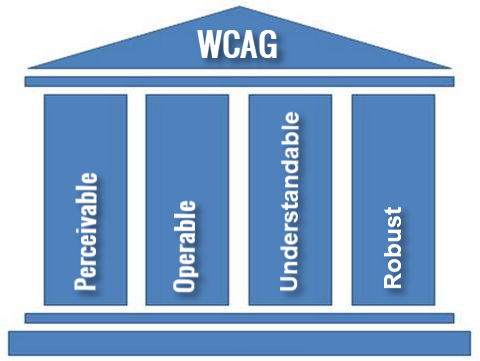 At the very least, WCAG guidelines state that websites need to include content that is perceivable, operable, understandable, and robust for those with disabilities. This includes a number of technical alterations, like making sure the website is compatible with screen readers, voice recognition software, and other assistive technology. Functionality, such as alternative text for images or closed captioning for videos and audio, using highly contrasting colors and readable fonts, and clearly and consistently labeling navigation buttons and ensuring these can be accessed from a keyboard, mouse, or joystick, can all make the difference for someone with disabilities. Without those modifications, people using assistive technology could be unable to access the information, products, or services they need and want, resulting in discrimination. All of these elements should also be accessible from a variety of browsers and devices so that as technologies change and update, the website is still accessible.
The ADA requires website compliance with WCAG 2.0 AA, but reaching your potential customers with disabilities goes far beyond just complying with the basics of the law. While a website may meet all the technical requirements of ADA compliance, it still may not be easy or convenient for potential patrons who use assistive technology to navigate a site and identify the information they need.
Usability
 When companies test their websites for usability, they commonly use groups that they consider to represent the "general public." Testers try out different features of the website to determine if the layout is organized well, flows from one topic to a logical next topic, indicates clearly where relevant information is located, and generally meets the needs and expectations most users will have when navigating to and around the website. To determine whether a site is "usable," testers use a rubric called MEELS: memorability, efficiency, errors, learnability, and satisfaction. While this was designed to be a relatively succinct, objective standard by which to judge websites, the downfall can come from a failure to differentiate members of the testing group.
Putting It Together
While testing groups commonly are comprised of a variety of nationalities, genders, and races, those whose physical limitations cause them to experience a website differently are often underrepresented. If only individuals without disabilities are taken into consideration because they make up the majority of the target audience, a company is consciously excluding input from nearly a fifth of their potential users.
A website may be easily navigable to those using a computer and access to a keyboard, mouse, and screen, but for users who require a screen reader, joystick, or other assistive technology, information could be much more difficult to access. For example, it may be obvious to sighted individuals that basic information like hours of operation, location, or driving directions are on the first page under a photo of the business. However, someone with who is blind or has low vision might have to scroll through a significant amount of information via text-to-speech if there are insufficient headings, labels, or document formats to help navigate to and find the desired information.
Usability should take into consideration the needs of all potential users, and often changes that are made to accommodate those who use assistive technology can benefit everyone. For example, using highly contrasting colors between text and background is much easier to read for everyone. Clearly defined headings make information much easier to find on websites. Captioned videos and audio provide privacy and convenience when listening is impractical, like in a noisy waiting room or a crowded bus. Using simple, easy-to-understand language helps those for whom English is not their native language.
A more inclusive way to study usability for all consumers would be to include test group participants representing a variety of disability groups in addition to those from diverse cultural backgrounds.
Ready to become compliant? Check out our Accessibility Services to see how we can help.
Not sure if you're compliant or not? Our Accessibility Testing Services will help you determine what your website needs to be accessible to all.