Structured negotiation for accessibility lawsuits is a new solution for organizations.  In recent years, accessibility lawsuits have been increasing at a staggering rate. 
ADA Title III Website Accessibility Lawsuits filed in Federal Court
2014
2015
2016
2017
2018
2019

4,436

4,789

6,601

7,663

10,163

11,184




(Estimated: 5,592 as of June 2019)
Source: Seyfarth & Shaw LLP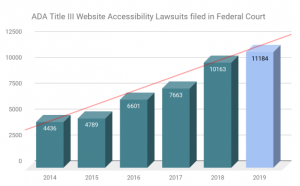 These numbers, combined with the recent decision of the Supreme Court, have many businesses and organizations worried. In the case of Robles vs. Domino's, the Supreme Court chose not to review the 9th Circuit Court's ruling that Domino's website IS subject to Section 508 of the Rehabilitation Act's Title III as a "place of public accommodation." These decisions by both the Circuit Court and SCOTUS reinforce the many judicial rulings that websites are subject to the same ADA Title III prohibition of "discrimination on the basis of disability" as any brick and mortar place of public accommodation or commercial facility. 
Most businesses don't deliberately exclude people with disabilities from their websites, but often they are one of the last groups considered when building an online presence.  Contributing factors to this practice are a lack of understanding about digital accessibility and a lack of skill and knowledge by web developers and website creators.   
Many businesses are simply behind on web accessibility or haven't considered it at all.  They may be brought up short when a lawsuit arrives at their door. It can be particularly frustrating for small businesses who may have spent a considerable portion of their budget building their online presence, only to find it's inaccessible to people with disabilities. 
Lawsuits Can Keep Coming
Businesses can be sued more than once, and by multiple parties.  31% of retail businesses and 17% of foodservice companies sued since July 2017 have received more than one lawsuit. This means the legal issues can continue to recur, even if businesses choose to settle rather than litigate. Settlement really isn't the answer, in the end – unless it resolves the accessibility issues.  A continued lack of accessibility leaves businesses open to additional lawsuits. 
A New Solution to Accessibility Lawsuits
In the mid-1990s, Lainey Feingold and Linda Dardarian, two twenty-year veteran disability rights attorneys, developed the idea of structured negotiation as an alternative to filing lawsuits. Structured negotiation functions as a collaboration between the prospective plaintiff and the business against which they have a complaint.  All parties involved agree to circumvent the court system and work together to find a solution and a timeline that resolves the accessibility issues. 
The plaintiff agrees not to sue in exchange for allowing the business to resolve the accessibility issues and avoid the cost and damages (both financial and brand-related) of a public civil rights court case.  There are still fees associated with having lawyers hammer out the negotiation, and with fixing the accessibility issues, but these are significantly less than a lengthy and costly court case, and result in a positive outcome for both parties. 
This solution has been used to settle important accessibility cases including businesses like Bank of America, Weight Watchers, Walgreen's, Major League Baseball, as well as Citibank, CVS, RiteAid, Safeway, Walmart, and Wellsfargo. 
Most people filing web accessibility lawsuits simply want access to the same information available to everyone.  They want to use online banking services, participate in health programs, obtain their prescriptions, attend sporting events, eat at restaurants, and go to concerts.  Tasks that most people can easily do from their phone or computer may be impossible for people who use assistive technology unless accessibility features are built into the website. 
From Adversaries to Collaborators
An additional benefit of structured negotiation for accessibility lawsuits is that the business involved has the opportunity to participate in the settlement.  They work with the plaintiff to understand the issues, and can often obtain much-needed training and education about accessibility that can help prevent future issues. The parties cooperate to define the roadmap and the timeline for resolving accessibility issues. It can foster a collaborative relationship between the plaintiff and the business and leads to a clearer understanding of the importance both of accessibility and inclusion. 
The process of structured negotiation can be more flexible than a court settlement and acknowledges the willingness of the business to work with the plaintiff and the disabled community. More reasonable timelines are often worked out, along with input from the plaintiff about the highest priority issues to help ensure the issues are addressed correctly in a cooperative, rather than adversarial manner.  
In an interview for Disability Visibility Project, Lainey Feingold said, "One of my favorite success stories in the book is our negotiation with Major League Baseball. We did a negotiation that improved the websites of every major league team as well as the sports giant's mobile app. The main reason it worked is easy: blind baseball fans were involved from the very beginning. Once the MLB lawyers and business folks met these fans, they understood the importance of accessibility."  
In a case between blind shoppers and Albertsons Companies (operating as the popular stores including Safeway, Vons, and Albertsons), a settlement was reached using structured negotiation.  The blind shoppers claimed that the website and mobile applications of Albertson's stores were inaccessible.  Using structured negotiation, Albertson's worked with the shoppers and each parties' respective lawyers to figure out a solution. Under the terms of the settlement reached during the structured negotiations, Albertson's agreed to correct the accessibility issues to ensure that their mobile apps and websites conformed to the Web Content Accessibility Guidelines (WCAG) 2.0 Level AA.  Albertson's further agreed to maintain the conformance to WCAG for any future content. They created an Accessibility Policy, instituted accessibility testing of their mobile apps and their websites, and training for their staff. This settlement, reached using the collaboration of the plaintiff and defendant, avoided costly and time-consuming litigation, and arrived at a resolution, not unlike those mandated in cases that were actually tried in court.  
The best part of structured negotiations is that it can bring the parties together in a spirit of cooperation, rather than being adversarial. The defendants gain a better understanding of accessibility issues and how they affect real people in a face-to-face environment where the issues can be discussed.  The courts are removed, allowing the parties to speak freely and honestly about the problems accessing their digital information and the problems in achieving accessibility compliance. The defendant can propose a workable roadmap and timeline for resolution, and the plaintiffs can see the defendant's willingness to address their concerns. Often the plaintiffs have suggestions on best practices going forward and expedite the process by providing useful information and ideas. 
Structured negotiation is a relatively new response to disability and digital accessibility lawsuits, but it is gaining ground and creating a sense of community and cooperation between those who want to provide digital access, and those who are trying to gain it.  As technology advances, and as digital accessibility culture becomes more widespread, hopefully, accessibility lawsuits will be a thing of the past.
To learn more about accessibility and what your organization can be doing to avoid accessibility lawsuits, visit our Accessibility Training page.