Digital accessibility in banking may not seem like an important issue, but in the last few years, the private sector is being targeted by web accessibility lawsuits with increasing frequency, and the finance and banking industry is not immune. The number of claims against banking institutions has risen significantly over the past few years. Almost 20% of the population is disabled, so if your website is not accessible to everyone you could be losing business to organizations who are taking all of their potential clients into consideration as well as putting yourself at risk for accessibility litigation. Out of 2,285 ADA accessibility lawsuits filed in 2018, 7% of those were from the financial and banking industry.  Even industry giants like E*Trade and Morgan Stanley have both faced complaints regarding the accessibility of their websites and both have agreed to put a remediation plan in place to become accessible.
Where to start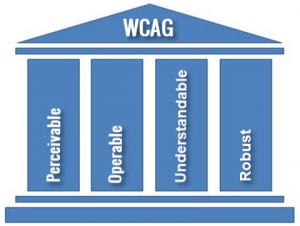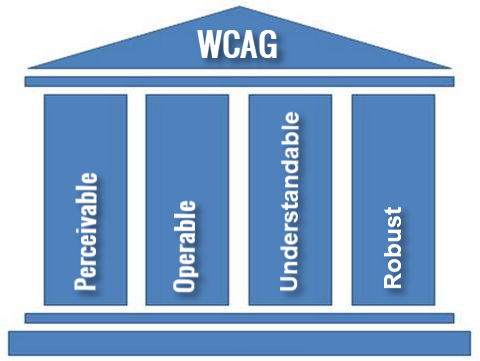 You don't have to figure out what does and does not make an accessible website all on your own. The World Wide Web Consortium (W3C) has set universal standard recommendations for best practices to make websites accessible to everyone.  These standards are categorized into four main pillars of Web Content Accessibility Guidelines (WCAG). All URL elements must be perceivable, operable, understandable, and robust for people with a variety of disabilities: visual, auditory, motor, or cognitive. When web designers and content creators focus on those main pillars during the creation of a website and content, accessibility is included in the foundation of your content and its functionality.
Accessible everywhere
Not only must your website be usable with screen readers, but they also must be accessible on a variety of different devices as well, which falls within the "robust" pillar of WCAG. Of the 80% of internet users who bank online, more than half of them access their banking information using a smartphone with a mobile banking app. It's necessary for those who are blind or have low vision, but it's also easier for everyone who banks using their computer or smartphone when accessibility features are included.  Nearly 40% of banks lack accessibility features which cause many elements of their webpages to not be perceivable by customers using screen readers.  Nearly 70% of bank websites are not usable to all because they cannot be navigated by anything other than a mouse. Buttons are unlabeled so it is unclear what they were meant to do,  images lack alt text, and some areas of the page are not able to be accessed at all by keyboard-only users– they can only be reached using a mouse. Additionally, nearly all banks and financial entities use PDF formats for their monthly statements.  Many of these are inaccessible due to errors in reading order. In many PDFs, text is read out of order and tables do not read properly so customers cannot tell which numbers belong in which columns.
Take Complaints Seriously
One of the biggest mistakes companies make when dealing with digital accessibility issues is ignoring complaints, or passing them along to someone else without ensuring the concerns are addressed. Many times, those who aren't able to access your website will take one of two actions. They may take their business to another company that has considered and prioritized their needs, or they may contact you to let you know that their needs aren't being met by your website. If you take no action after becoming aware of their concerns, there's a chance they'll take their complaints to a lawyer and file a lawsuit against you for discrimination. Taking the time to respond to complaints and address them quickly and efficiently will keep customers happy and reduce the chances that you'll be hit with litigation.
Prevent complaints in the first place
The most efficient way to reach all of your customers and prevent both complaints and lawsuits is to make your website accessible from the beginning, or as soon as you become aware of any accessibility issues. Ideally, an accessibility expert should be consulted during the beginning design phase, because not every web designer is knowledgeable about accessibility. That way, webmasters don't have to go back and try to mold formats into accessible code. Digital accessibility in banking requires a webmaster who understands assistive technology users and what their needs are.
When overhauling an entire website all at once just isn't possible, the next best option is to to make a website compliant one piece at a time. Having a roadmap for accessibility can help mollify anyone who complains.  If they know you have their needs in mind and are working steadily towards a solution, a person is less likely to sue and if they do, are less likely to be successful. If your bank has a compliance expert on staff, they should carefully catalog and evaluate your website to determine what elements need remediating and to create a plan to get it done. If you do not have an in-house expert, consider hiring outside pros for testing, auditing, and consulting to help you prioritize the process and make sure your website isn't missing any key components to reach everyone. Once you have a plan in place for remediation, specialized software can be used to quickly and easily convert inaccessible elements of your website.
It's worth the money
You may be surprised to learn there are financial gains to be had in making your website accessible. First, making your website accessible dramatically reduces the risk of ADA lawsuits, potentially saving your company tens of thousands of dollars. Making your apps and website accessible opens up your services to the disabled population. Twenty percent of the American population has a disability and that 20% control a combined income of $872.7 billion in the US alone.
After creating a more accessible website, companies frequently experience an overall growth in revenue. Accessible websites aren't just easier for those with disabilities to use, they're often more streamlined and easier for all users.
Making your website accessible can lead to increased web traffic since most search engines read content in the same way screen reader software does: perceiving only text. This means when the images and videos on your website have captions, alt-text, and transcripts available, search engines capture that text, your SEO increases, and your website is more likely to show up in searches.
So while you may be tempted to "save" yourself the money and wait until you absolutely have no choice but to become ADA compliant, realize that your customers need you to anticipate their needs. Earn the business of 20% of the population who experience disabilities and avoid costly ADA litigation by creating and maintaining an accessible website. Digital accessibility in banking is cost-effective.
To learn more about accessibility for your organization, visit our Accessibility Services page.